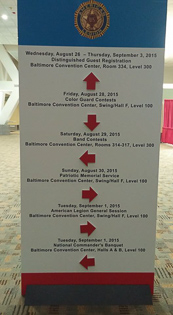 The band traveled to Baltimore for this year's Convention to compete in the 97th National Convention Concert Band Competition. The Band Contest begins at 1 pm Eastern Time and will be live-streamed free of charge. Please click through to hear the American Legion Band of Greater Kansas City in its 64th consecutive appearance at the National Convention – the longest tenure of any American Legion Band. The Kansas City Band performed:
Blue Lake Overture; John Barnes Chance
The Viking; Karl King
Finale from Symphony No. 1; Vasily Kalinnikov
Kansas City scored a 92.0, which earned 2nd place in the contest.
The edited and compact version of the live web stream is now available on YouTube.  Order of performances:
Waltham, MA
Kansas City, MO (begins at 22:48)
Tonawanda, NY
Brattleboro, VT
Awards Presentation
Photo Recap on the American Legion website