(Alphabetical)
Tom Baucke, Tuba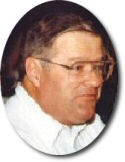 The greatest story that I can remember about Tom happened during our first trip to New Orleans in 1985. A group of us went to dinner at a small neighborhood restaurant. I think that the Easterdays organized the dinner. Tom and I both asked if they had oysters, thinking, oysters on the half- shell. The waitress said, " No they didn't have oysters on the half-shell, but they could serve us an oyster cocktail. Tom and I looked at each other and said OK. The osyster cocktail turned out to be a huge bowl of shucked oysters, which were delicious and which we discussed many times after that trip. Tom McCready
---
Jack Buckner, Clarinet
---
Larry (Laurence) Blair, Trumpet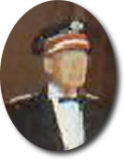 Larry Blair passed away in 1990. He played in the band from 1984 to 1990. His wife, Jeane will never forget the care and patience that the band members extended as his dementia progressed. Larry did get lost in Indianapolis. She says the band members are "Just great friends." Jeane recalls many hours of pleasure playing the card game,"In Between" that Betty Easterday taught them during the one of the bus trips. Larry has a son also named Larry, who has played with us from time to time. Tom McCready
---
Lars Cassell, Euphonium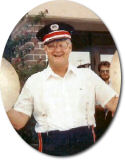 A great person. He had flown B-17s in W.W.II. The first year that I served as director, [1989] in Baltimore, I was blessed with euphoniums, but short of percussionists and drafted Lars as a cymbal player. We were playing "Citation," a march by Claude Smith, with one very important, very exposed cymbal crash. I wasn't concerned, because I had told Lars to just watch me, keep eye contact, and I would be very careful to cue him. You can guess what happened. I looked at him a couple of measures before the crash and saw only the top of his head. Naturally the place for the cymbal crash came and went with a great silence. Tom McCready
---
Steve Catron, Euphonium
---
Jerry Dobel, Band Manager & Drum Major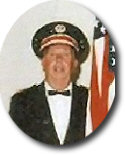 Jerry Dobel, drum major and band manager, was Jack before Jack. He was also the Kermit before Kermit and came out of retirement to serve as drum major in Salt Lake City in 1984. We marched the parade twice. I'm not sure if there were any other bands there at all. We got to see President Reagan in his limo. Jerry was very active in the Legion, served on the Insurance Committee (the source of the contest prizes) and was very politically active in the local Legion and did a lot for the band. Tom McCready
---
Malcolm (trumpet) & Betty Easterday (bells)
---
William (Evert) Hall, Trumpet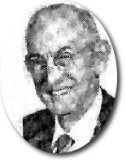 William [Bill] E. Hall, trumpeter, dates back to the early days of the band and is the beginning of four generations of Legion Band members. He was born in Arkansas. His son, William Howard Hall trumpeter, was the second generation to play in the band, William E. was grandfather of Doug Hall, horn and the great-grandfather of Jeremiah Hall, horn. The news would often feature him on Memorial Day playing taps at the cemetery in Independence, MO. Doug Hall
---
Gerald Hamilton, Bass Clarinet
---
Kermit Harper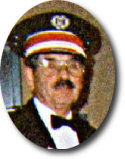 Drum Major/Clarinet
Kermit joined the Legion Band as a Clarinet player when Dr. Mumaw was director and practice was in the memorial building Linwood and Paseo.
---
Chandler Horner, Trumpet
---
Dr. Gordon Howell & Diane Howell
Euphonium and Trombone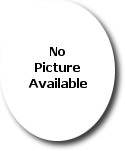 Dr. Gordon Howell, baritone player, was a veterinarian and his wife, Diane, invited Jack Buckner and Virginia to fly to a New Orleans convention in a single engine Cessna. Cautiously, Dr. Howell followed the Mississippi River to New Orleans and the scenery was gorgeous. On the return trip they sent some larger items home on the bus… concerned there was too much weight on the small plane. After the New Orleans trip, the Howells invited Virginia and me to a small aircraft convention in Las Vegas but they were unable to attend.
A few weeks later the Howells took off early one morning in the darkness, relying on his instrument panel. Dr. Howell was inexperienced using this technique and his vertigo resulted in the plane crashing eight miles from take off. Jack Buckner
---
Dr. Earnest Laws, Trombone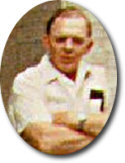 Doc Laws, trombonist, made my podium. and also made a podium for my church. He was a well respected dentist who practiced in Shawnee. Seeing his huge hands would lead you to think that he couldn't be all that good of a dentist, but he must have been. He flew C-47s in Europe and hauled paratroopers after D-Day. He also had great wood working skills, having made a baton that I save for special occasions. Tom McCready
---
Mary Lightfoot, Clarinet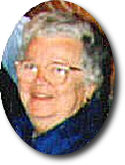 Mary Lightfoot clarinet, everyone knew. Mary was a veteran of W.W.II and very proud of it. She was a good person and a good musician who never hesitated to say what she thought. Mary was an inspiration, a guide, and a mentor. Above all, she was a loving and feisty friend.
Edwina Smith, Nalleyn Jones and Tom McCready
---
Roy Loban, Tuba
Roy Loban of Overland Park, Kan., passed away July 14, 2013, at Overland Park Regional Medical Center.
---
Tom McCready, Conductor
Tom McCready, 65, of Overland Park, Kansas, passed away March 6, 2009 at the K.U. Med. Center. Memorial services will be at 10 a.m., Wednesday, March 11, 2009 at Lutheran Church of the Resurrection, 9100 Mission Rd. In lieu of flowers, the family asks that contributions be made to either the church or to the KU Endowment Fund to benefit the Marching Jayhawks. Tom was a lifelong area resident. He graduated from Shawnee Mission North High School and the University of Kansas. Tom was the band director at Shawnee Mission East from 1966 to 1970. He then went to work as a pharmaceutical salesman, retiring from GlaxoSmithKline in 2000. Tom was a member of the Lutheran Church of the Resurrection. He was an avid golfer and an accomplished musician, having been a member of both the Lawrence and Overland Park city bands as well as being a former director of the Greater K.C. American Legion Band. Survivors include his wife, Frankie McCready, of the home; a son and daughter in law, Matt and Amy McCready, Tulsa, OK; a daughter and son in law, Jeanne and David Mitchell, Boulder, CO, and 2 grandsons, Henry and Owen. (Arr.: Maple Hill Funeral Home, (913) 831-3345)
Obituary: KC Star, March 7, 2009
---
Darrell McDermed, Trombone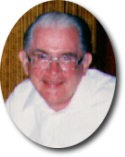 Darrell McDermed trombonist, was a steady, dependable player and a truly nice person. He first had symptoms of his lung disease during the American. Royal Parade, when he had to drop out. He hung in there to the end with us, figuring out how to get oxygen on the airlines, etc. Tom McCready
---
Raymond Peterman, Trombone
Raymond Webster Peterman, 91, Kansas City, MO.; passed away Friday, December 25, 2009 at the Kansas City Hospice House. A visitation will be from 6 to 8 p.m. Wednesday, December 30 at the Amos Family Chapel of Shawnee. Funeral services will be 9 a.m. Thursday, December 31, at the Grace and Holy Trinity Cathedral, 415 W. 13th St. KC, MO 64105. Private family burial will follow at Millcreek Cemetery in Silex, MO. Raymond was born on June 24, 1918 near Rich Hill, MO, the son of Joe Peterman, Jr. and Clara (Hall) Peterman. He graduated from Rich Hill High School in 1936. He served in the U.S. Navy during World War II, as a Radioman on the U.S.S. Joseph T. Dickman from 1942 until 1945 and was involved in five major landing operations. In 1949, he received a BA in Business Administration, from the University of Missouri at Columbia, where he was a member of the Alpha Kappa Psi Fraternity. On October 7, 1950, he married Ella Louise Robinson. They lived in Rich Hill, MO, where during the 1950's, he was elected Committeeman of Rich Hill on the Republican ticket. He was Cashier of Rich Hill Security Bank, Secretary of the Rich Hill Commercial Club, and a founder of the Garden Club of Rich Hill. He was a member of the Veterans of Foreign Wars and the American Legion. In 1955, he was a Commissioner to the 167th General Assembly of the Presbyterian Church of the United States of America. In 1956, he and his wife moved to Hickman Mills (now Kansas City), MO, where he became Senior Vice President of and served on the Board of Director of the Hickman Mills Bank (now UMB Bank). From 1961 until 1967, he was a partner in the Slaughter Insurance Agency. He was a community leader, holding office in the Hickman Mills Chamber of Commerce, the Jackson County Chamber of Commerce, the Richards-Gebauer Base Community Council, the Southeastern Jackson County Mental Health Association, the Harry S Truman Chapter of the Air Force Association (AFA), and the Missouri AFA. In 1979, he was honored as Citizen of the Year by the South Kansas City Chamber of Commerce. He served as National Vice President of the AFA from 1989 to 1991. A trombone player since childhood, he performed with the Medical Arts Symphony and the American Legion Band. He was a member of the 1st Presbyterian Church of Rich Hill, and later, the Ruskin Heights Presbyterian Church, Village Presbyterian Church in Prairie Village, KS, and Grace & Holy Trinity Cathedral. He became a member of Delaware Crossing Chapter, Kansas Society Sons of the American Revolution (SAR) in 1983, with his membership eligibility being derived from the Revolutionary War Service of his ancestor, Asa Eggleson, Jr. (1763-1840), and has served in many SAR positions at the chapter, state, and national level. He was a Republican candidate for State Representative in 1990 and for Missouri Secretary of State in 2000. He was preceded in death by his parents, and by his wife Louise, March 23, 1999. Survivors include sons, Raymond W. Peterman, Jr. and wife, Becky of Glen Ellyn, Il, Timothy E. Peterman of the home, Stephen C. Peterman and wife, Carole, of Wilmington, NC, and John R. Peterman of Butler, MO, seven grandchildren, Ryan and Eric Peterman of Glen Ellyn, Il, Cassie, Chris, and Thomas Peterman of Wilmington, NC, Joseph Peterman and friend, Stacey, of Gonzales, LA, and Jacob Peterman of Butler, MO, and one great granddaughter, Kelby Peterman of Gonzales, LA, two brothers, Melvin L. Peterman and wife, Edwina, of California, MO and Paul E. Peterman of Rich Hill, MO, one brother-in- law, Roy E. Robinson of Auburn, MO, and one sister-in-law, Martha Veasman of Benton, AR, three nephews and three nieces, and a number of other relatives.
---
Lester Schick, French Horn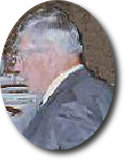 Lester Schick, French horn, in his words, "permanent fourth horn." He too, had been a bandsman in W.W.II. He was very knowledgeable about band music in general, and was an authority on opera. I had his daughter, Nancy, as a fine horn player at SM East. She later filled-in with the St. Louis Symphony, when Kaid Fridal retired early due to health issues. Tom McCready
---
Ray Stewart, Trumpet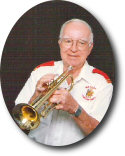 In the late forties Ray played in the Post Office Band under the direction James Kelly, and then the Legion Band in the early fifties. Ray started a "Big Band" dance band in the early sixties having about seventeen players. In addition to playing in the Legion Band he played in the Overland Park Band and the Unity Band. In later years he wintered in Naples, Fl. where he played in the Naples City Band. Malcolm Easterday
---
Charlie Tucker, Trumpet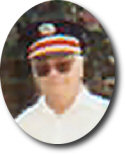 Charlie Tucker, trumpeter. What a great person. He was a high school band director in Smithville, MO.. I really was jealous of Charlie for having played with Stan Kenton in the early 60s. Charlie, myself and my son Matt McCready, were to play a Dixieland postlude for a funeral (a close friend requested it), but the funeral was Saturday and Charlie died on a Tuesday. Tom McCready
---
Carolyn Yoss, Clarinet
Carolyn June Yoss 75 Butler, MO died April 30, 2014. Visitation 4-6pm May 4, Service 10am May 5, Adrian United Methodist Church; Burial Zion Lutheran Cem, Prairie City, MO. Arr- Atkinson Funeral Home 816-297-2211 Published in Kansas City Star on May 1, 2014