Conductor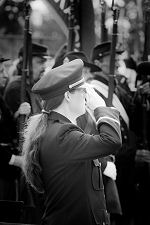 A native of Missouri, Heather M. Pickett comes from a family with a rich musical background, including performers, educators, and historians. Continuing this tradition, Mrs. Pickett studied saxophone and music education at the University of Missouri at Kansas City Conservatory of Music, graduating with a Bachelor of Music Education in May 1995. She taught middle school band for five years and private woodwind lessons for more than 20 years, and has also been active in several other Kansas City-area ensembles. After graduating from the Conservatory, Ms. Pickett returned to UMKC and graduated with a Juris Doctor in December 1997. She practiced law for nine years while at the firm of Shook, Hardy & Bacon L.L.P., and then left her legal practice to stay home with her young children.
Ms. Pickett joined the American Legion Band of Greater Kansas City as a saxophonist in 1998. She became the Band's assistant conductor in 2005 and conductor in April 2007. She is the first woman to lead the Band in its 90+ year history.
In addition to supporting veterans through the American Legion Band, Ms. Pickett is a member of the American Legion Auxiliary – her father was a Sergeant in the United States Air Force and is a Vietnam War Veteran – and actively liaises with local and regional veterans and veterans organizations in hosting events to recognize and assist out nation's heroes.  Further, she was the president of the Permanent Memorial Day Committee from 2009 through 2015, which since the 1920's had hosted Kansas City's annual Memorial Day ceremony, most recently in conjunction with the National World War One Museum at the Liberty Memorial.
Officers
President: Mark Drake, Senior Manager, IBM
Vice President: Chriss Scherer
Secretary: Dave Groebe
Treasurer: Melissa Peterson
National Convention Coordinator: Mark Drake
Past President: Clyde Rayburn, retired attorney
Administration
Drum Major: Kody Willnauer
Librarian: Tom Mahan
Asst. Librarians: Buck Buchanan, Melissa Peterson
Uniforms: Anne Sneller
Event Coordination: Chriss Scherer
Equipment Coordination: Al Sneller
Equipment Transportation: Doug Hall
Color Guard Commander: Kirk Rush
Website: Belinda Johnson