One of the hardest and most demanding jobs is the librarian. Passing out music, collecting, storing it and hunting for lost parts. The job is distracting, as a player in the band he or she must stop if some one wants music. When music is collected, often someone forgets, or forgets to look in an unused folder.
The librarian in the 1950s was Dan Kasmercheck. Dan did this job for many years, not always putting music in the proper place, but always willing to look for it. On parades, music was passed out and collected at the end of the parade, which was also the librarian's job. As practice halls changed, the music had to also be moved. In the 1950s, the Masonic building at Linwood and Paseo, which was then owned by the American Legion, was used.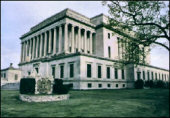 The next rehearsal space was the East building at Liberty Memorial, then the old Journal Post building, also known as "bug haven." This was later torn down and rebuilt as part of Crown Center. Epperson Hall on the UMKC campus was used for rehearsals for a couple of years. For a short time, the American Legion post at 75th and Metcalf was used. The next move was to the Presbyterian Church at 84th and Foster in Overland Park. In 2016, the band rehearsal space changed again: to Dwight Cowles American Legion Post 370 near 75th and Metcalf in Overland Park.
After Dan Kasmercheck, the librarian was Betty Easterday. The music was stored in the Stock Yards building in the west bottoms, the same building where the Golden Ox restaurant is located. When the move was made to the Kansas Legion Post, the job of librarian was taken over by Jerry Hamilton. The music was stored by Jerry in his home. The current librarian is Tom Mahan. Over the years, Wendi Levitt, Buck Buchanan, Paul Nadig, Kermit Harper and others have helped do this job.
| | | |
| --- | --- | --- |
| Jerry Hamilton | Betty Easterday | Buck Buchanan |